http://www.tewkesburyadmag.co.uk/business/9744241.Apprenticeships_are_the_way_forward__says_Chloe/
Apprenticeships are the way forward, says Chloe
9:50am Wednesday 6th June 2012 in Business By Mike Pryce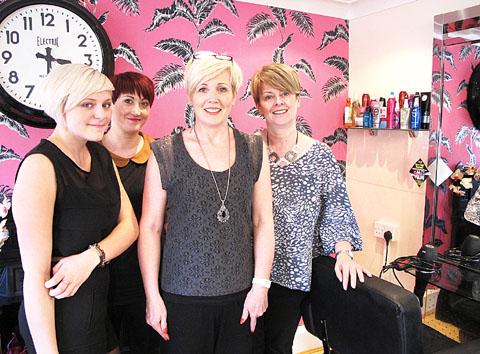 HAPPY AT WORK: Chloe Pearson, left, with members of staff at Contemporary Hair. Chloe is an apprentice at the salon.
HAIR salon Contemporary Hair is a keen supporter of the Worcester News 100 in 100 apprentices campaign.
For the past four years the business in Stourbridge has taken on apprentices from Kidderminster College, which works with employers and supports apprentices placed with them.
Annette Evans, supervisor at Contemporary Hair, said: "The communication is very good between our salon and the college and we will continue to use Kidderminster College in the future".
Chloe Pearson, the salon's current apprentice, is doing really well at college and is very happy with her apprenticeship, which she started in September.
Miss Pearson said: "I'm really enjoying spending time in the salon.
"I get the confidence and experience working and speak-ing with the clients, and get the hands-on experience that I wouldn't get being full-time at college.
"I would recommend the apprenticeship route for hairdressing to others."
On the apprenticeship scheme, learners earn a minimum of £2.60 an hour, while learning in the workplace. There are many apprenticeships on offer at Kiddermin-ster College, including acc-ountancy, business and administration, hairdressing, construction and a whole lot more.
For further information, contact Kidderminster Coll-ege on 01562 826515 or visit kidderminster.ac.uk.
Paul Champion
www.paulchampionuk.com
www.apprenticeshipblog.com
📱: 07540 704920
Twitter: @blogapprentice
Skype: paulchampion31